So I managed to snap a couple of quick photos of Natasha at one of the few times she manages to stay in one place. My neighbor has already told me to take loads of pictures because they grow up so fast. (Why do I suddenly feel like I have given birth?)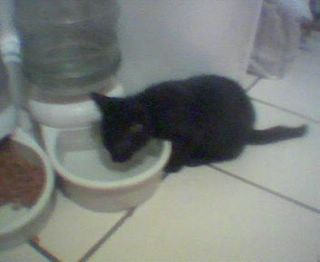 Between trying to teach Natasha that electrical cords are not chew toys, I did actually go out. Friday night I went out for dinner and drinks with one of my best friends from high school. In the middle of dinner, I had to ask for her autograph. Her job to pay the bills is in theater education or educational theater -- something like that -- but she still acts in local productions. In the middle of dinner, this guy comes up to our table and asked her if he had seen her in a certain production. He had indeed. He then went on to say that he is a critic and he thought her performance was so great that he has not gone back to the theater for fear that any subsequent productions would pale in comparison. See why I had to ask for her autograph? When we were in high school, I thought she was a fantastic actress. I was too shy to act and so did tech work on the productions. I limit my acting to hanging out at bars and parties.
Last night I went to see
Sisterhood
with another old friend. It was ok. If I hadn't read the books, I probably would have liked it a lot. After the movie, we went for drinks at a
bar
in my neighborhood. I hadn't been in the place since college. (Oops. I almost said high school. I didn't go to the bar in high school; my friends did. My high school drinking was limited to splitting a four-pack of California Coolers with friends on the Berkeley Marina.) Back to the bar. When we walked in, these people were being served a drink in a huge bowl with several straws. I figure that any place that has a long list of cocktails on the menu and plush armchairs and sofas for seating has got to be my new hangout. It also doesn't hurt that it is two blocks from home.