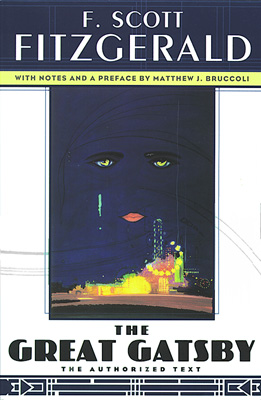 You're The Great Gatsby!

by F. Scott Fitzgerald

Having grown up in immense wealth and privilege, the world is truly at
your doorstep. Instead of reveling in this life of luxury, however, you spend most of
your time mooning over a failed romance. The object of your affection is all but
worthless--a frivolous liar--but it matters not to you. You can paint any image of the
past you want and make it seem real. If you were a color of fishing boat light, you
would be green.


Take the Book Quiz
at the Blue Pyramid.
*sigh* So Cancerian... It also happens to be one of my favorite books although I probably like Fitzgerald's short story "Bernice Bobs Her Hair" the best of his work that I have read.
And this got me thinking yesterday on my first day of spring break. I spent the day in my pj's napping, watching a little TV, and going through books. As for the books, here's a short list of some of my favorite books and authors.
*
The Sound and the Fury
by William Faulkner. OK. Maybe I like his short story "A Rose for Emily" more. Actually I've read all of his novels except for the few that were not about his mythological county in Mississippi. Take that back. I tried one of those and it just wasn't as good as the others, in my opinion. I read most of the twenty-something novels during my freshman year of college after being introduced to Faulkner my senior year of high school. The university library was a magical place to me that year.
*
Atlas Shrugged
by Ayn Rand.
*
Mohawk
and
Empire Falls
by Richard Russo.
*
To Kill a Mockingbird
by Harper Lee.
*Pat Conroy.
*James Cain.
*Alice Hoffman.
*Milan Kundera.
*Barbara Kingsolver. Well, maybe not
Prodigal Summer
. That one would have been OK if her previous book had not been
Poisonwood Bible
. After
Poisonwood
,
Prodigal Summer
was a disappointment.
I am sure there are others but these were the first to come to mind. I tend to revisit these books at least once a year.
And now I'm off to do exciting things like cleaning and grocery shopping. Oh, and dropping off that piece of mail for my mom about which she screamed on Thursday night. I told her I would get it to her over the weekend. She replied, "No, you will bring it by Saturday." And yeah, I just rolled my eyes again.